There is a certain strain of the Mandy population that is composed of women who are aware of their position and define themselves through minor rebellions and humor. These Mandys function by conforming to the standard role of womanhood, but and also by "breaking" those norms by doing something outrageous like buying a vibrator.
These Mandys like to unwind by drinking cosmopolitans like they do in Sex and the City, reading adult Judy Blume novels, or shopping. It is very important to these Mandys to have girl friends to share secrets and have a good time with. The ultimate example of self-aware Mandys is The
Red Hat Society
, whose main goal is to laugh, but "underneath the frivolity, [they] share a bond of affection, forged by common life experiences and a genuine enthusiasm for wherever life takes [them] next."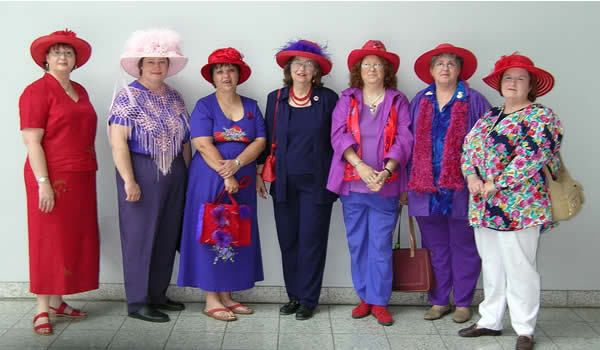 There are various forms of self-aware Mandy clubs. This one, for example, is called The Fat Old Moms:
"This is a group of women that I gathered together to share a special bonding time at our church camp. We laughed, got tattoos, had our pictures taken (thanks to Don Wooden!!), enjoyed fine food, chick flicks, shopping and some relaxing spa time. We hiked, went on a hay rack ride and just treated ourselves to some ME time. They all want to do it again next year, so I guess it was a hit!"